The Health Foundation of Greater Indianapolis was formed in 1985 from the sale of Indiana's first non-profit health maintenance organization, Metro Health HMO.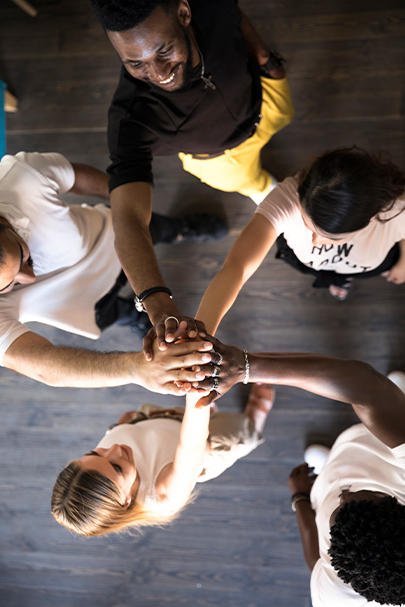 The Health Foundation of Greater Indianapolis takes its fiscal management responsibilities seriously in order to maintain a relatively consistent rate of payout regardless of economic fluctuations. Our financial stewardship includes the recent purchase and renovation of The Academy, a historic girls school building in downtown Indianapolis, as an earned revenue opportunity.
From the beginning, we decided to support health-related causes, particularly those that helped our community's poorest and most vulnerable citizens. Health concerns have changed over the years and therefore, our funding priorities have evolved in order to remain responsive to community needs. 
We continue to be progressive funding partners, working within the means of our endowment to make high-impact, long-term changes in the health of our community.
The Health Foundation of Greater Indianapolis purchased The Academy, formerly the St. Mary's Girls Academy, at 429 E. Vermont St., Indianapolis, in 2005. Originally built in 1922 in historic Lockerbie Square, the building housed a girls school operated by the Catholic Archdiocese until 1976.
In addition to locating its own offices in the building, the board of The Health Foundation invested more than $3 million to renovate this historic gem while maintaining the building's original beauty and historic significance.
The Academy is located at Vermont and East streets, in historic Lockerbie Square, once home to famed Hoosier poet, James Whitcomb Riley, and within walking distance of a variety of restaurants, boutiques, and bistros of Mass Ave Cultural District. The building is one block off of the Indianapolis Cultural Trail.
The Academy has an old-school charm, with turn-of-the-century light fixtures, arched doorways, carved wood and limestone, and a mosaic tiled first floor. However, the building is thoroughly modernized with improvements that include updated mechanical systems, handicap accessible entrances and restrooms, added kitchenettes, and Wi-Fi access.
While evidence of the former girls school abounds, several areas of the building particularly retain its old-school charm, including:
The original gymnasium's hardwood floors, raised theatre stage and high ceilings
One-of-a-kind stained glass windows remain in the former chapel on the first floor
Exposed brick and arched ceilings in the attic are enhanced with skylights and keyed elevator access
The Health Foundation of Greater Indianapolis sold the Academy building to Shook Realty Group in the spring of 2021. They can be reached at (317) 249-9000.